Fitness Classes – Exton, PA – Get Fit and Emotionally Healthy with Martial Arts
---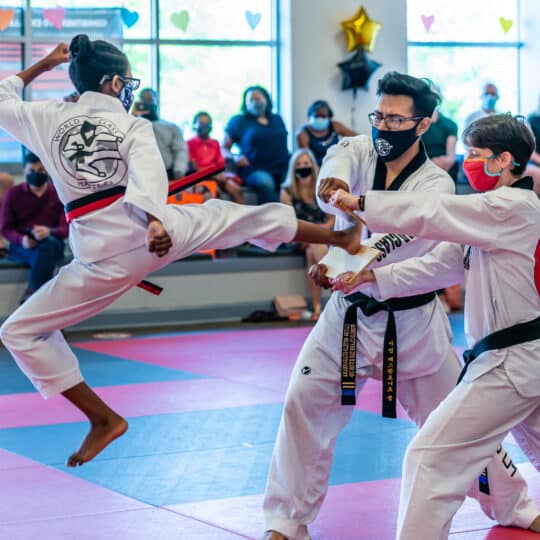 Martial Arts is an Alternative to Traditional Fitness Programs in Exton, Offering a Unique Combination of Aerobic, Anaerobic, and Flexibility Training All in One Engaging Activity
Every year, we tell ourselves that this is the year that we're going to take better care of ourselves. Every year, we also tend to fail. One of the reasons for this is that, as valuable and healthy as traditional fitness classes may be, you cannot force yourself to lift weights or go jogging if you're not engaged with it. You can want to take better care of yourself, but you have feel yourself connected to the activity to stick with it.
Here at Master P's World Class Tae Kwon Do, our martial arts classes provide all the benefits you expect from a fitness program. With classes for children, adults, and both, you get a complete combination of fitness and athletic activities, all while also learning valuable skills and techniques. Our Tae Kwon Do training may not be a traditional fitness class in Exton, but the benefits you receive are unlike any you get from other types of programs. Sign up for one week free today and see for yourself why these classes provide such amazing fitness value.
How Can Martial Arts Be a Fitness Class?
Tae Kwon Do offers benefits that you typically only expect to receive from multiple fitness classes in Exton, and it does so in a way that is healthy and fun for both adults AND children. Most fitness classes involve either aerobic or anaerobic activities, and the few that combine the two are often very intense – such as a combination of high intensity yoga with weight lifting. It is not for children, and not for the feint of heart.
Martial arts is different. Martial arts is extremely engaging. It is fun, interesting, and "cool." But it is also able to check all the boxes that you expect to see from a fitness class, including:
Burning Calories – It is estimated that, depending on your body weight and intensity level, those engaging in martial arts can burn anywhere between 500 and 900 calories per hour. Running for an hour burns 650 calories.
Flexibility Training – Martial arts improves flexibility in ways very similar to yoga. It involves a lot of natural stretching and movement can help with both flexibility and balance, and is useful for essentially all ages.
Power Improvements – Taekwondo is not necessarily a strength building activity the way that something like weight lifting will be, you do build strength with taekwondo through your body weight exercises, and – perhaps more importantly – what you do receive with martial arts is power. Power is functional strength and stamina, which is the type of muscle improvements most of us need in our daily lives.
In addition, martial arts provides psychological and emotional benefits, teaching grit, resilience, focus, discipline, and more. It also provides useful skills, like self-defense training.
Yet perhaps most importantly, martial arts/taekwondo is a fitness activity that is truly fun. Most people that try martial arts find it extremely fun and engaging. There are other fitness activities that are healthy. But if you're not enjoying it, or you're not excited about it, then you're very unlikely to continue doing it – and no fitness activity is effective if you're not staying with it.
Martial arts is different. For those in Exton, PA or the surrounding area that are interested in fitness classes and fitness activities that can completely change their lives, try one week free at Master P's World Class Tae Kwon Do, today.