Kindergarten to 5th Grade Martial Arts Demonstration at West Chester, PA Schools
---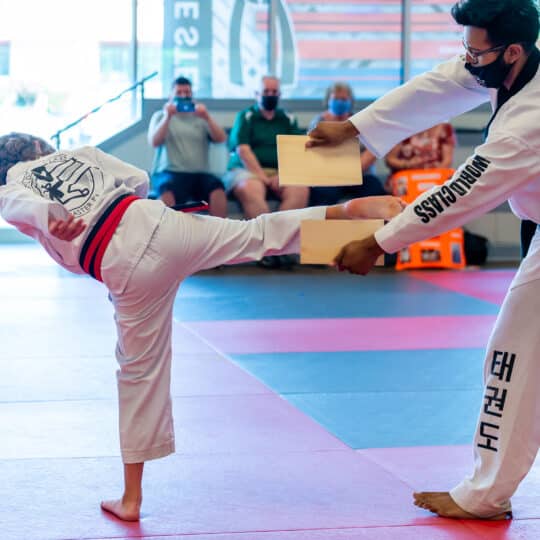 Martial arts is a popular form of athletics. It is one that both children and adults love. Not only does it teach a unique sport and combat style, but it also teaches intangible qualities, such as self-confidence, that few other sports provide.
One of the ways that we like to give back here at Master P's World Class Tae Kwon Do is by offering free Taekwondo demonstrations for students at local elementary schools in the region. We can have Master P, one of his instructors, or some of the many black belts that we've trained come to your child's school and provide them with a personalized demonstration of this fascinating form of martial arts.
Why Consider a Free Demonstration?
Everyone loves martial arts. But not everyone can teach it. It is not a common part of the curriculum in the vast majority of elementary schools across the Chester County area. It takes years of specialized training to master the martial arts techniques, and most Physical Education classes do not have someone available that can showcase it.
We truly believe that martial arts can help students of all ages with their focus, their self-esteem, their discipline, and so much more. That's why these demonstrations are a part of our Elementary School Partnership Program – a program that contains 10 different benefits for elementary schools across Chester County, with martial arts demonstrations some of our most popular.
During these demonstrations, we'll provide an introduction to martial arts. We'll also show some of the "cool" and fun activities that are included, such as:
Spinning Kicks
Board Breaking
Self-Defense Tricks, and More
We are so happy to share these because we know how valuable they are for students to see. We can also perform these demonstrations at assemblies, PE classes, after school programs, clubs – anywhere that students will be.
Great for Current Students!
We are more than happy to provide these demonstrations at your school or your child's school. If you currently have a student enrolled in our classes, these demonstrations are a great way to try to get more of your child's friends to join. If you're interested in learning more about these programs, call Master P's World Class Tae Kwon Do and we'd love to talk to you about our Elementary School Partnership program options, or get in touch with your child's school.