After Work Activities in Chester County, PA – What to Know About Tae Kwon Do
---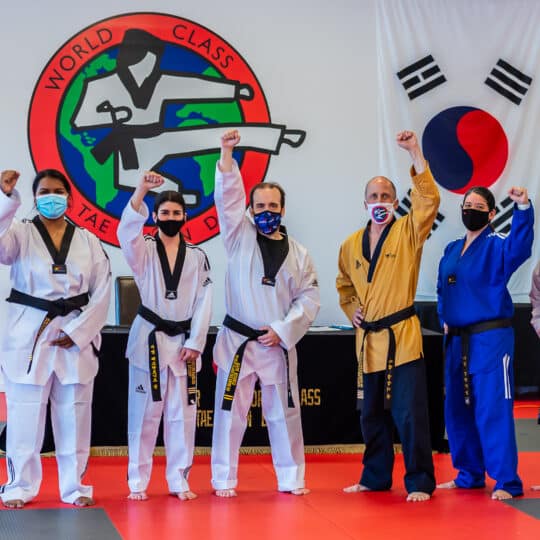 Paoli, Downingtown, Exton, West Chester, West Goshen, and beyond – there are simply not enough after work activities for adults in the area, especially for those with kids or those that want to do something besides bars and restaurants.
Remaining active as adults is critically important for your long term health and happiness. But that often involves finding activities that you can do locally that give you a sense of excitement. Here in Chester County, one activity you may want to consider is martial arts – specifically, taekwondo as Master P's World Class Tae Kwon Do.
What Makes Tae Kwon Do a Popular After Work Activity?
There are many reasons to consider martial arts after work. One reason is because, according to so many of our adult students, "I have always wanted to." We have martial arts classes for adults that are interested in finally getting an opportunity to learn martial arts on their terms – when they can enroll themselves, rather than depend on their parents.
But Taekwondo offers so much more than a chance to live out a childhood dream. It has genuine benefits for adults of all ages. These include:
Flexibility – Our muscles and joints freeze up as we get older, unless we have an opportunity to work on them. Some people choose yoga, but others love to improve their flexibility using martial arts techniques taught at Master P's World Class Tae Kwon Do.
Self-Defense – Martial arts is about so much more than fighting. But you do still learn valuable self-defense techniques. For anyone that wants to be able to protect themselves better when faced with some type of danger, taekwondo is directly able to help.
Self-Confidence – We have found that most of our students, no matter their age, tend to feel more self-confident after engaging in our classes. By gaining strength, both in their bodies and in their minds, it becomes easier to feel like you can take on the world.
Students of all ages also learn other important skills like focus and drive, useful in all components of their lives. As an after work activity in West Chester and for the surrounding areas, learning to train in the martial arts offers so many benefits that they take with them even out of our martial arts center.
What About Parents With Kids?
Master P's World Class Tae Kwon Do is also a great choice for adult parents with kids of their own. That is because we have mixed classes available, designed specifically for families. Our family martial arts classes give you an opportunity to train with your child, so that you don't have to find a babysitter or go out on your own. Enroll yourself and your child and train together, or train by yourself and come home and show your children what you can do.
Sign Up and Try for Free Today
If you're looking for adult classes or adult after work activities that you can enjoy, consider our martial arts classes at Master P's World Class Tae Kwon Do. We offer a 1 week free trial, so you can try as many of our classes as you want, see how the experience feels for you, and then enjoy as many follow up classes as you like to start moving up in your belt class.
Sign up with Master P's World Class Tae Kwon Do today, and let's show you why so many adults enroll in our martial arts classes for after work.