Children's Fitness Classes: Martial Arts for Strength, Flexibility, Calorie Burn, and More
---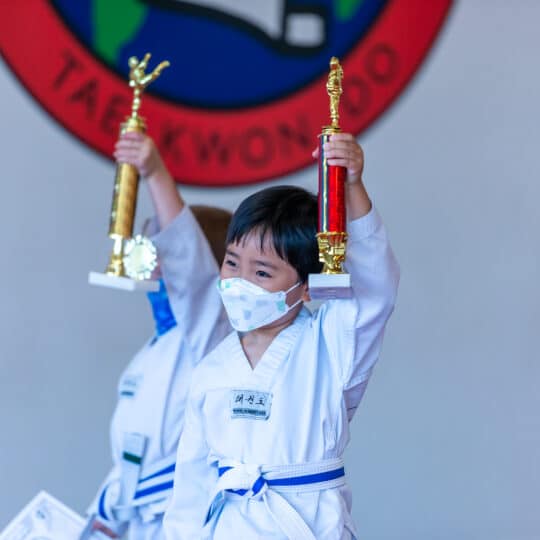 Help Your Child Stay Fit and Active in a Way that is Fun and Engaging at Master P's World Class Tae Kwon Do
Children need to stay active. But fitness can be hard when you're a child. Too young for weight lifting and too easily bored for jogging, parents that want to help their child stay fit are often tasked with finding alternatives that are unstructured in order to improve fitness. At Master P's World Class Tae Kwon Do, we believe that our "fitness classes" for kids are the best choice.
Master P's World Class Tae Kwon Do is a martial arts center in West Chester, close to Paoli, Exton, Downingtown, West Goshen, and throughout Chester County. We offer Tae Kwon Do, one of the most engaging forms of martial arts for all skill levels, and we offer classes that we believe will address the fitness needs of children of all ages. Sign up your child for 1-week free!
Martial Arts Classes Are More Than Fitness Classes
We don't call our martial arts classes "Fitness Classes." They're martial arts classes. We learn Tae Kwon Do, a form of self-defense training that is popular the world over.
But for those that are looking for fitness classes for kids in the area, our martial arts classes are one of the best options you can find. That's because they offer everything that you're already looking for in a child's fitness classes and more:
Fitness – Martial arts, especially as your child improves, burns more calories per hour than running. It uses essentially every muscle in your child's body, but also does so in a way that is not prone to injury (especially Tae Kwon Do, which has less injury risk than other martial arts forms). It involves stretching and improves flexibility, with benefits comparable to yoga.
Progressively Challenging – Tae Kwon Do is typically very easy for beginners, and becomes more challenging the more they improve. That is what you want from fitness, as you want your child to be challenged physically – but not right away, since many of them are just starting out on their fitness journey.
Engaging – There is no point in putting your child in a fitness class if they're going to find it boring or frustrating. But martial arts is thoroughly engaging. Children love it, and they'll be able to stick to it and give it their best each and every time they're there – sometimes for years to come.
If you're looking for fitness classes for children in Chester County, martial arts at Master P's World Class Tae Kwon Do checks every box.
Additional Benefits of Martial Arts as Fitness Classes
We can clearly establish that these martial arts classes are actually fitness classes, even if they're not officially labeled as such. But what makes martial arts so incredible is the way that it continues to offer additional benefits that will help your child thrive. For example, martial arts teachers:
Discipline – Martial arts helps students learn to control themselves and focus.
Grit – Martial arts teaches kids to withstand challenges.
Focus – Martial arts teaches children how to stay focused on a task.
Martial arts also teaches balance, provides a social experience and, as a form of self-defense, may also teach your child some much-needed skills.
We are confident that our martial arts training offers the same benefits of fitness classes and more. That's why we offer our one week free trial. Sign up your child, let them give us a try, and see why so many parents use Master P's World Class Tae Kwon Do as their primary choice for keeping their child active.