Team Building Classes for Mom Groups and Women's Groups
---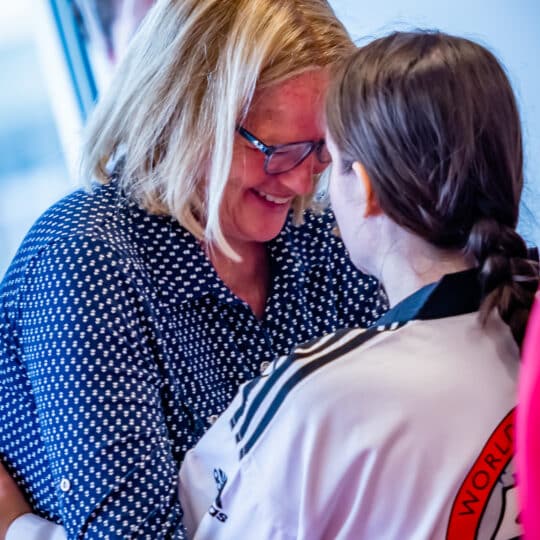 Life is stressful. It is often even more stressful for women. Being a mom, or navigating the challenges of womanhood, often comes with so many responsibilities, distractions, and challenges, that it becomes important to turn to people for support to help carry at least a little of that emotional load.
So many of us find a sense of purpose in community. That's why there are so many official and unofficial women's groups in the area. From "Mom" groups, where women gather together for some important self-care, to women's meetups that introduce new experiences or encourage long lasting friendships.
At Master P's World Class Tae Kwon Do, we want to help community groups, just like yours, enhance that sense of support by offering a free team building martial arts class to "Mom Groups" in the region. Learn more or schedule time for your team building class by contacting us today at (610)692-6767 or fill out our online form to learn more.
About Our Team Building Community Classes for Moms and Women
So many moms in the area give their all to this community. We want to do our part to give back. That is why we are offering these free one time martial arts classes for mom-themed community groups in West Chester, West Goshen, Paoli, Downingtown, Exton, and throughout the region.
These are groups that are typically built to support other women that are going through similar challenges and pressures. So we developed a martial arts class designed to help you reach that goal. These classes are designed around:
Building trust in each other.
Showing each other support and encouragement.
Having fun.
Our entire team here at Master P's World Class Tae Kwon Do truly believes that martial arts can help teach skills that will benefit you in the community. We've developed a Tae Kwon Do class for community groups that are looking to benefit from those same skills. You'll cheer each other on, learn to have faith in each other's abilities (and your own), and create memories that will last a lifetime.
A Unique Experience for Moms
Women in the Chester County area do so much for this community. This is one small way for us to give back. With a free introductory group martial arts class here at Master P's World Class Tae Kwon Do,  we hope to give you a fun, unique, special experience that you'll remember and grow from in the months and years to come.
Contact us today if you'd like to learn more. We also have a free one week trial for anyone that is interested in trying Tae Kwon Do out individually, with classes for children, adults, and families.