What is Stopping You From Your Martial Arts Experience?
---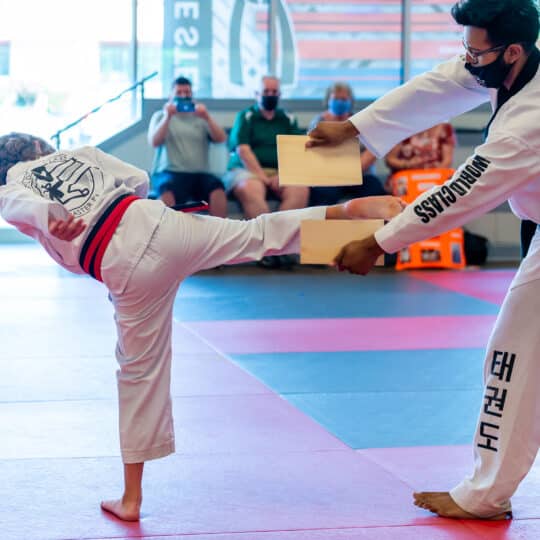 There are so many benefits to martial arts. It's an activity that teaches focus, discipline, and self-control. It is a fitness activity, one that uses a lot of muscles while building strength and flexibility. It is a useful sport, one that – while we hope you never have to use it – can protect you if faced with a threat.
But above all else, martial arts is "cool."
Most people imagine themselves as martial artists. They envision what they would do in a battle. They watch movies or shows like Cobra Kai and Shang Chi and they imagine themselves performing a variety of tricks to block punches and kick the bad guys.
Martial arts like Tae Kwon Do are not truly about fighting. But it's difficult to deny that martial arts are "cool." Yet, it's not uncommon for men, women, and children to be interested in martial arts but hold themselves back from signing up.
Why?
What Makes People Stop Themselves From Martial Arts
We have personally met many people that have considered Tae Kwon Do, and want to sign up, but ultimately hold themselves back. The reasons for this vary:
"I am worried I am not good enough"
We have many, many beginners here at Master P's World Class Tae Kwon Do, including both adults and children. We specialize in making people feel comfortable, and never expect any new student to come in with any knowledge. It's our job to teach you, not your job to know.
"I don't want to get hurt"
Compared to other sports like football, basketball, and even hiking, injuries are rare. Tae Kwon Do is about self-defense, not violence, and there are no hard punches or sparring while you're still learning the basics. Injuries can happen with any physical activity but are comparatively unlikely compared to many other sports.
"I am not fit or flexible"
Most people start in martial arts unable to touch their toes and in a wide variety of physical shapes. That's actually part of the beauty of martial arts. It is the right choice for people of all fitness levels and backgrounds.
Try for Free 7 Days, Unlimited Classes
The truth is that martial arts is frequently enjoyable, and in some cases life altering for children and adults of all ages. We understand that you have concerns. That's why we encourage you to sign up for our one week free trial and see why so many people in Chester County have become a part of our TKD family.