Karate in West Chester: Difference Between Karate and Tae Kwon Do
---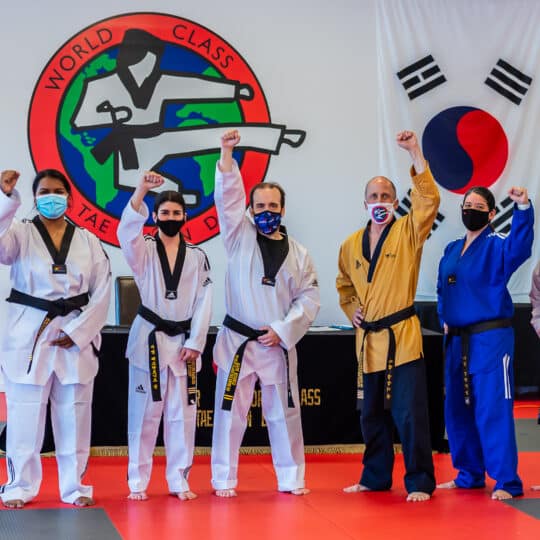 There are many forms of martial arts, and many techniques that someone can master in. But it's not uncommon for many families in West Chester to only know about one or two styles, and seek out those styles almost as if they can be used interchangeably with the words "martial arts." For example, we know from experience that many people find our Tae Kwon Do center while seeking out a different form of martial arts, like Karate.
The truth is that different styles offer different advantages. At Master P's World Class Tae Kwon Do, we genuinely believe in the quality and value that Taekwondo has to offer, and we encourage anyone that was considering karate in West Chester to find out more about TKD first.
What Are The Similarities Between Karate and Tae Kwon Do?
Both Taekwondo and Karate have many similarities. Both teach a form of self-defense combat, meant for improving confidence and the ability to protect yourself from harm. Both are very focused on the idea of discipline, and learning how to control yourself and your emotions. Both also respect your growth, understanding that you are starting as a beginner and meant to advance over time.
What Are The Differences Between Karate and Tae Kwon Do?
What most people find appealing about Tae Kwon Do is its focus on kicks over punches. Karate is a majority punch-oriented system. Punches have their place in Tae Kwon Do as well, but they are not emphasized as much. Instead, TKD is focused on kicks and leg movements. This allows for:
Better Flexibility – Leg movements inherently provide you with better flexibility and more core power than other forms of martial arts.
Less Strength Differential – Our legs tend to have more power overall than our arms, which makes it easier for those with less upper body strength to feel powerful in our classes.
Easier for Beginners – Similarly, Taekwondo tends to be easier for beginners, yet also performs as well or better in sparring as you improve.
Many of the world's best martial artists, UFC fighters, and other athletes use Tae Kwon Do, and yet it is also a great way for those new to martial arts to start strong and stay confident as they progress.
Martial Arts in West Chester, PA
Martial arts is a wonderful exercise, teaching critical life skills. But it is still important to consider the type of martial arts you want yourself or your child to try. Karate remains a wonderful martial arts style, but so many find that they benefit more from Tae Kwon Do. Contact Master P's today to learn more, or to get one week free. Great for children and adults.